Here is a product I have fond memories of from my youth, Nabisco's Bugs Bunny and Friends Graham Cookies. First introduced in 1979, the cookies and were available on grocery store shelves for a surprisingly long time. For years they were packaged in small rectangular boxes similar to Nabisco's Barnum's Animal Crackers. The front and back of the box had Bugs and pals building their own clubhouse. As you can see, the characters were drawn in the style of the 1970s Western comic books.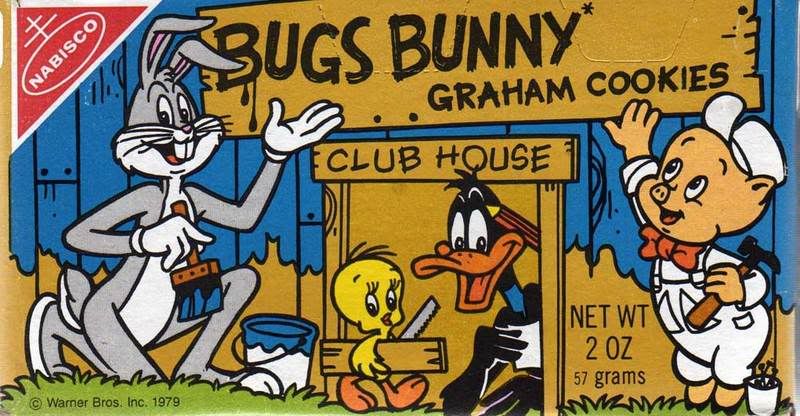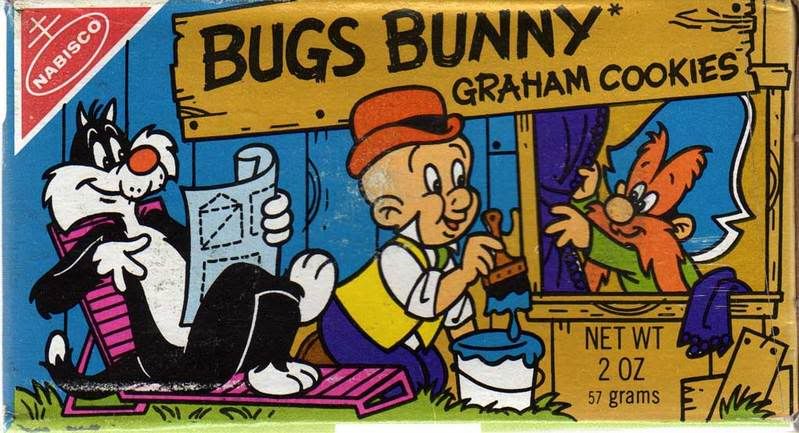 Pretty much every major Warner cartoon star had their own cookie shape inside the box (along with some supporting players like Petunia Pig and Henery Hawk). I remember enjoying some boxes of these as a tot in the 1980s and having no clue who "Cool Cat" and "Merlin Mouse" were or why they were important enough to get their own cookie shapes.
When the cookies first came out, Nabisco gave kids a chance to mail-away for a free Bugs Bunny Cookie Clubhouse kit with some proofs-of-purchases. Check out the hilariously off-model drawings of the Warner cartoon stars. I especially like midget Elmer.
The cookies survived through the 1980s and even into the 1990s untouched. They had same artwork on the box and same selection of cookie shapes (yes, even Cool Cat and Merlin were still in there). In 1993, Nabisco offered up a line of Bugs Bunny Graham cookies in larger boxes and in a few different flavors including cinnamon (seen below) and chocolate. The 1993 boxes had some updated artwork and a more limited selection of characters.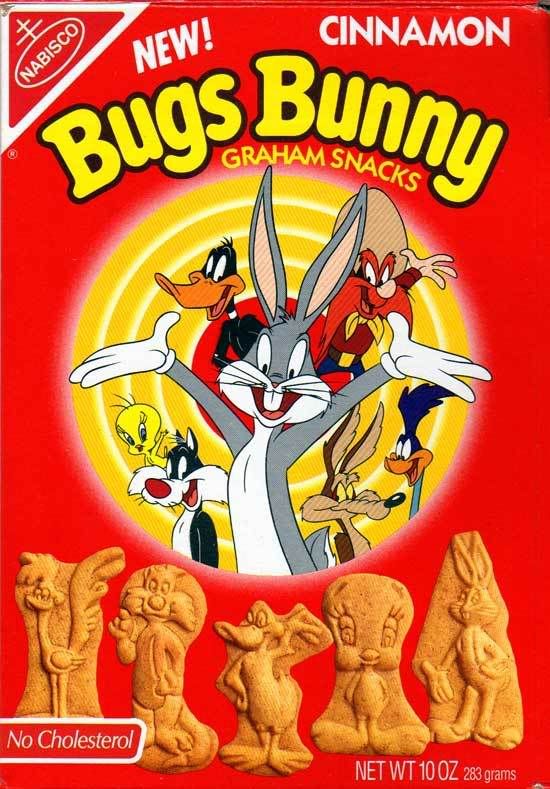 I don't have an exact date when these were discontinued, but I have heard reports of folks still finding these and the smaller boxes (with the 1979 artwork) in some areas being produced into the late 1990s.
Thanks to Tim Hollis for the pictures.